Supporting the Quest for Greatness
by Katie Drake and Mary Muench
On this journey through life, we are fortunate to meet folks along the way who are unique and special in some way. The connections we feel and form with certain people can have a profound effect. Daneli Partners is incredibly blessed with the opportunity of being able to recognize and support those connections with people and organizations on their quest for greatness.
At Daneli Partners our mission is "We believe in the power and potential of people. When people clarify what matters and leverage their strengths, leaders emerge and anything is possible." Recently we recognized and connected an individual and an organization on their unique journeys to accomplish amazing things.
The Artist & the Astronaut follows the inspiring story of Pat Musick and Jerry Carr, who exemplify this mission. While a civil rights activist / artist and an Apollo astronaut may seem diametrically opposed, their unlikely love story highlights the simple connections in life that make us all human. The documentary proves that curiosity, perseverance, and empathy for your fellow man are powerful agents of change in even the most uncertain of times.
Neil Rosenbaum, Daneli Partners Co-Founder, and COO said, "It's so powerful when the history, work ethic, and dedication exhibited by so many in the valley is connected to an understanding of each individual's innate gifts and abilities."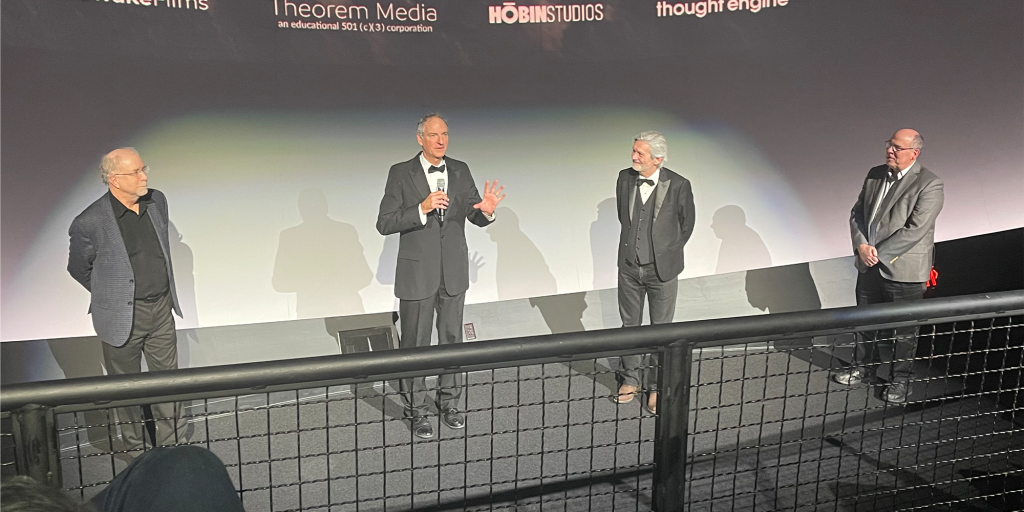 The New York premiere of The Artist & The Astronaut at The MOST in Syracuse, NY. From left to right: Tom Honan, Bill Muench, Todd Hobin, Paul Muench.
About the Film
Jerry Carr served as a marine fighter pilot, flying intelligence missions during the Cuban Missile Crisis. He was one of 19 people chosen from over 6,000 applications to work for NASA on the second group of astronauts. He was a spacecraft communicator (Cap Com) and was named Commander of the longest space flight to date in Skylab 4. On Christmas Day in 1973, he got his turn and made one of history's first and longest spacewalks.
Pat Musick is a civil rights activist, having spent much time at Cornell University in the 1960s. When Vietnam and Civil Rights protests began, she turned to art to understand it all and became an accomplished environmental artist. Her large and small, indoor and outdoor sculptures and works on paper are featured in over 100 public and private collections, including more than 50 museums and public spaces in the US. She has an MA and Ph.D. from Cornell University and has authored four books.
The Artist & the Astronaut tells the unlikely love story between the two as they participate in some of the most historic events in human history. The film is filled with never-before-seen footage of the early space pioneers and features interviews with key figures from that era. It chronicles Pat's and Jerry's vastly different paths as they traverse uncertain times, eventually coming together to render some of America's most enduring art. The Artist & the Astronaut is an uplifting love story proving that curiosity, perseverance, and empathy for others can be powerful agents of change.
The Making of the Film
"Great Accomplishments Aren't Reserved for OthersTM" (Paul Muench, Director of Educational Programming) is one of our central beliefs at Daneli Partners. The making of this documentary is an excellent example of tapping into what mattered to Bill and having the courage to create something unique and amazing.
Pat and Jerry Carr met Bill Muench and his wife Barb in Manchester and quickly became friends. In 2016, the Muench's were invited to Bentonville, Arkansas, to celebrate Pat's 90th Birthday and visit her commissioned installation of "A Place Where They Cried." The important stone sculpture at the Crystal Bridges Museum of American Art grounds represents the Native American people who traveled the Trail of Tears, a forced migration in the 1800s, where 4,000 died.
Traveling to Arkansas, experiencing the sculpture, and celebrating his friend Pat, moved Bill Muench. He said, "Someone should make a documentary about Pat and Jerry." Bill's wife, Barb, told Bill it should be him.
And so Bill Muench decided to set out on a quest to do just that. His unique strengths and experience made him the perfect person to share this story with the world. 
He embarked on this journey with no plan or budget. In the next six years, he traveled to nine states and two continents to interview numerous Apollo Astronauts, their wives, award-winning authors, artists, art historians, and even NASA directors of mission control. Eventually teaming with Central New York music legend Todd Hobin to score the film, they produced a story that otherwise would have never been told.
Since its premiere, the film has been in the following film festivals and won awards:
Fort Lauderdale International Film Festival (FLIFF), Omaha Film Festival, Julien Dubuque International Film Festival, Madrid Indie Film Festival (MADRIFF), Space Faring Civilisation Film Festival, Spirit of Independents Award (FLIFF).
Click here to learn more about the film and upcoming screenings.  
Living Out Our Mission
Our Daneli Partners team was proud to sponsor two showings of The Artist & the Astronaut. The first was the New York premiere of the documentary on Friday, February 3rd in Syracuse. The second was held in Little Falls on April 1st, with a donation of proceeds of $1,000 donated by Daneli Partners presented to the Mohawk Valley Center for the Arts (MVCA).
We believe that arts are an important way to engage youth, families, and community members. MVCA has shown positive leadership and growth in Little Falls and the Mohawk Valley, which is important to creating sustainability for our community. 
Dave Casullo, Daneli Partners CEO and Co-Founder, said, "Arts are an important part of community development. Especially with the history of arts in Little Falls, we feel integrating our work with students with the narrative about all of the great things happening at MVCA will spark an interest in them to pursue arts as a career or passion."
Daneli Partners is proud to recognize, support, and connect people like Bill Muench and organizations like the Mohawk Valley Center for the Arts on their quest to greatness.